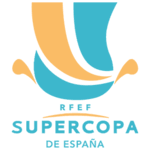 Halbfinale
13. Januar 2021, 20:00 Uhr:
Real Sociedad – FC Barcelona 1 : 1 / 2:3 Penalty
(Nuevo Arcángel, Córdoba)
14. Januar 2021, 20:00 Uhr:
Real Madrid – Athletic Club 1 : 2
(Estadio La Rosaleda, Málaga)
Athletic Club Super Cup champions !!!
FINAL
Info /AthleticClub
FC Barcelona – Athletic Club 2 : 3
Sonntag, 17. Januar:
21:00 Uhr
(Estadio de La Cartuja, Sevilla)
18.01.2021
Attack v defence! Antoine Griezmann left 'angry and annoyed' with Barcelona's lack of leadership in their back line after Athletic Bilbao caused havoc at set pieces to win the Spanish Super Cup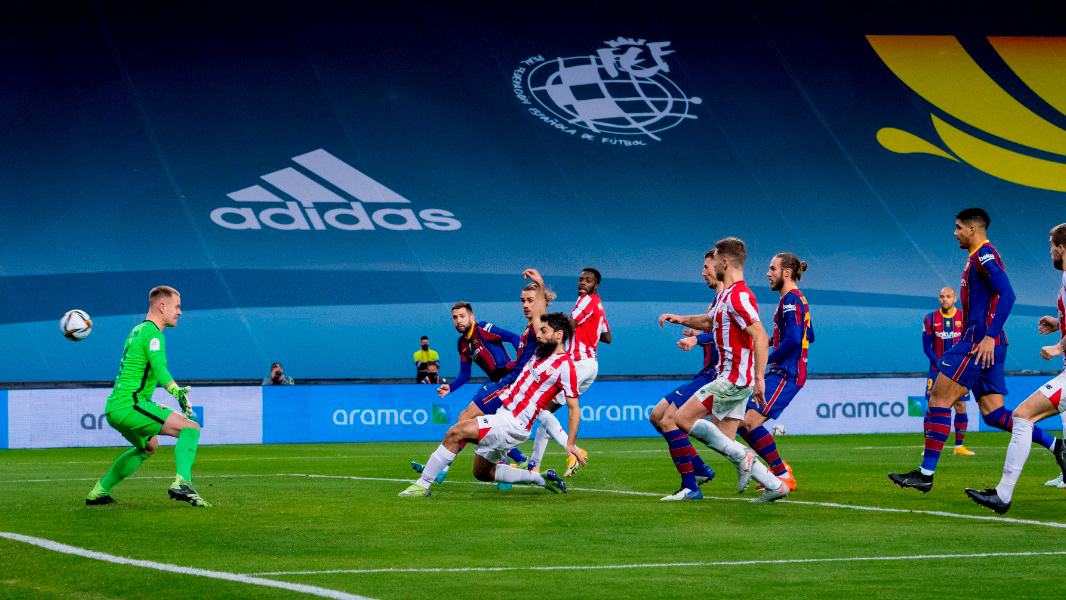 A furious Antoine Griezmann criticised Barcelona's lack of leadership in defence as they were beaten 3-2 by Athletic Bilbao after extra time in the Spanish Super Cup final on Sunday. Griezmann twice gave the Catalans the lead, however Bilbao enjoyed the game's best chances, causing havoc at set-pieces as they had a goal disallowed for offside and missed two gilt-edged headers to increase their advantage in the extra period. 'I'm angry, annoyed, peeved. Every single bad feeling you can have after losing a final,' Griezmann told Movistar
Supercopa Espana 2021
HALBFINAL
SUPERCOPA DE ESPAÑA
Halbfinale
Real Madrid - Athletic Club 1 : 2

Donnerstag, 14.01.2021
21:00 Uhr
(Estadio La Rosaleda, Málaga)

Spielverlauf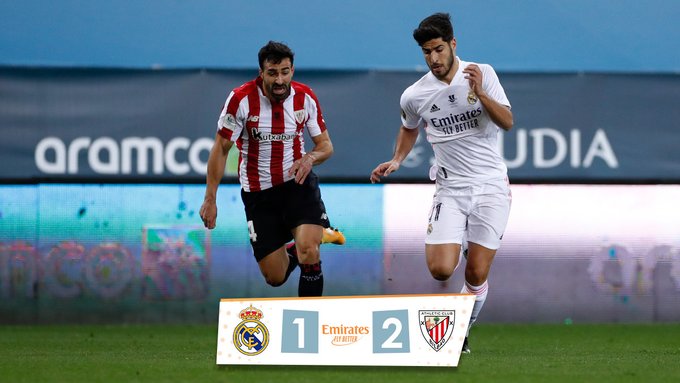 0 : 1 Raúl García 18. (Dani García)
0 : 2 Raúl García 38. / Elfmeter
1 : 2 Karim Benzema 73. (Casemiro)


Spielberichte / Reports / Crónica
Spielbericht
14.01.2021
Früher Supercopa-K.o.! Real Madrid unterliegt Athletic im Halbfinale
Real Madrid wird die Supercopa de España nicht verteidigen. Die Königlichen unterliegen dem Athletic Club im Halbfinale 1:2, der Turnier-K.o. zeichnet sich nach zwei Fehlern von Lucas Vázquez früh ab. Zinédine Zidane vertraut einmal mehr der bewährten Elf und sieht dann eine lange zu ideenlose Vorstellung.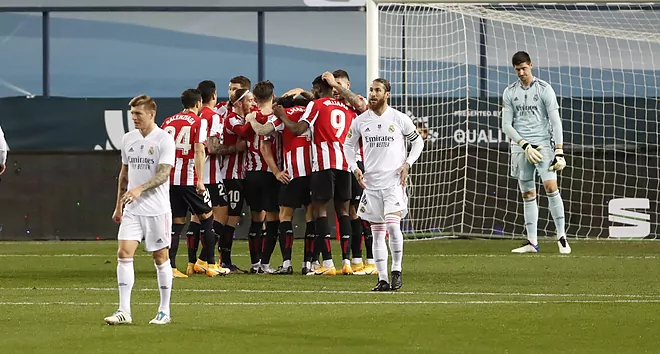 14.01.2021
Real Madrid 1-2 Athletic Bilbao: Raul Garcia nets first-half brace to inflict more misery on Zinedine Zidane as Basque side book reach Spanish Super Cup final against Barcelona
Real were knocked out of the Spanish Super Cup bringing to an end a miserable five days. It will be Marcelino's Athletic that play Barcelona in the final on Sunday.
Vorschau / Preview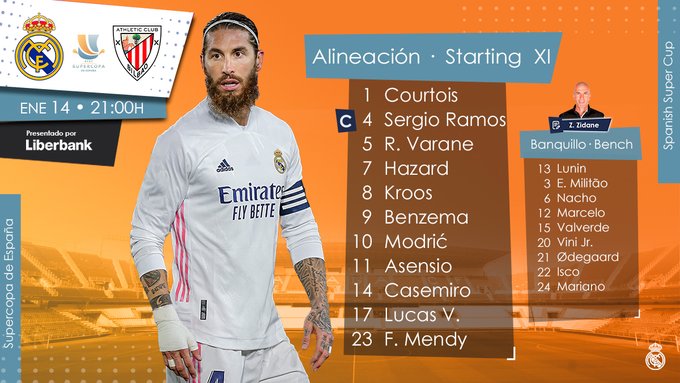 Vorbericht
14.01.2021
Damit Real Titel verteidigt: Macht Zidane Hazard noch zur Waffe?
Kann Real Madrid den Erfolg vom Vorjahr wiederholen und den Jahresstart mit einem Titel versüßen? 2020 krönten sich die Blancos zum bislang letzten und elften Mal mit der Supercopa de España – jetzt soll es erneut gelingen. Doch zuerst müssen Zinédine Zidane und seine Männer im Halbfinale gegen den Athletic Club aus Bilbao antreten (21 Uhr ). Bei einem Sieg wären die Blancos für das am Sonntag anstehende Endspiel qualifiziert.

Der Gegner, auf den man dort treffen würde: Der FC Barcelona, der sich bereits am Mittwoch gegen Real Sociedad durchsetzte. Doch um bei Bilbao zu bleiben: Gegen die Basken trat das weiße Ballett erst am 15. Dezember in LaLiga an, holte damals einen souveränen 3:1-Sieg. Nun soll der zweite Saisonsieg gegen Athletic folgen. Damit dies klappt, bedarf es bei den Madrilenen allerdings eine deutliche Leistungssteigerung im Vergleich zum jüngsten trostlosen 0:0 gegen CA Osasuna. Austragungsort der diesjährigen Supercopa ist nicht wie im vergangenen Januar Saudi-Arabien, sondern aufgrund der Corona-Pandemie Andalusien – Reals Halbfinale wird deshalb im La Rosaleda in Málaga gespielt.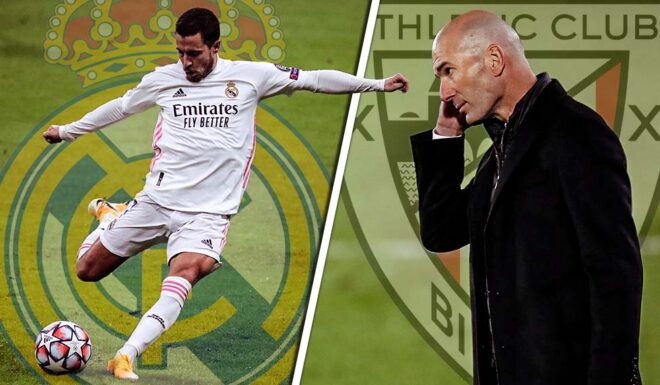 Preview
14.01.2021
Zidane: "We will have to make sure we compete and put on a good performance"
Zinedine Zidane spoke at the virtual press conference ahead of the semi-final in the Spanish Super Cup, which sees Real Madrid take on Athletic Club at La Rosaleda (Thursday, 9:00 pm CET): "We've been in Malaga for four days preparing for the match and we're doing well. We're pleased we can play. We will have to make sure we compete because we are up against a good team. We're going to have to work extremely hard, fight for every ball and put on a good performance."

"We're been playing well and when we slightly underperform we are always criticised. During the season there are always ups and downs and we're going to try to be at our best tomorrow. We hope the season will get progressively better."