Spielbericht
17.08.2019
Real Madrid jubelt zum Auftakt in Vigo – Weltklasse-Tor von Kroos
Real Madrid nutzt den Patzer des FC Barcelona und startet erfolgreich in die neue Liga-Saison. Bei Celta Vigo gewinnen die Königlichen 3:1. Luka Modrić sieht kurz nach dem Seitenwechsel eine Rote Karte, woraufhin Toni Kroos mit einer Genialität und Lucas Vázquez aber für die Entscheidung sorgen.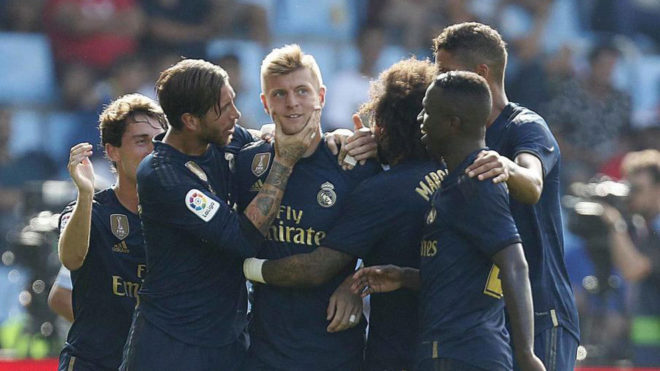 Los jugadores celebran el gol de Kroos.
17.08.2019
Celta Vigo 1-3 Real Madrid: Gareth Bale stars after shock Zinedine Zidane selection as Toni Kroos, Karim Benzema and Lucas Vazquez give La Liga giants perfect start
In the absence of the injured Eden Hazard, Bale was picked to start for the season opener and he was Real Madrid's best player in the first half laying-on the opener for Karim Benzema.

Crónica
17.08.2019
1-3: El Real Madrid debuta en la Liga con una gran victoria en Balaídos
El Real Madrid arrancó la Liga sumando tres puntos tras derrotar al Celta en Balaídos. Benzema, al culminar una gran jugada de Bale, Kroos, que anotó un gol espectacular desde fuera del área, y Lucas Vázquez dieron la victoria al conjunto blanco, que demostró saber sufrir tras la roja directa que vio Modric en el 57'. El primer golpe al equipo local llegó apenas superados los diez minutos de juego. Bale recibió escorado, se deshizo de Vázquez con dos bonitos recortes y asistió a Benzema, que remató a placer en el área pequeña. Un minuto después fue de nuevo protagonista el galés. Su disparo desde la frontal terminó en las manos de Rubén Blanco.